During the week, author Terry Pratchett – who has been diagnosed with early onset Alzheimer's – broadcast a documentary on the BBC. It was called 'Terry Pratchett: Choosing to Die' and detailed his own, and others attempts to be receive assisted suicide in Switzerland. Certainly a sobering and painfully sad documentary; but an important one, nonetheless.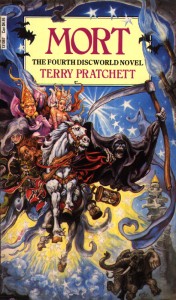 It got me thinking about Pratchett and the huge number of books he's written. He wrote a book with Neil Gaiman – ('Good Omens', which, I'm sure, I will write about in the future) – is one of my favourites. But of the Discworld novels, of which there are now about 40 titles, the one that stands out for me most is Mort.
At just over 300 pages, Mort is one of his shorter novels but, to me, this translates as most succinct. While I often find the other Discworld books can stray off the point at times, Mort sticks rigidly to the classic, three-act story-telling structure. We meet a teenager called Mort, whose farmer father believes that his thoughtful temperament prevents him from finding gainful employment. The plot begins when Mort's dad brings his son to a local employment fair. Thoughout the day, Mort fails to find a new employer. Then, as all hope was lost and at midnight, a stranger arrives in a black coat riding a white horse. He offers Mort a job, which the boy accepts gratefully. The only hitch is that the man is Death and that Mort's new job is as an apprenticeship ushering souls into the next life. So begins a  rollicking adventure that's part comedy/parody, part fantasy, part romance and part reflection-on-death-itself.
The character of Death appears in every Discworld novel but here, he really gets to shine. He's a witty and funny character who speaks in capitals and struggles to get to grips with humanity. Witness the hilarious part when Mort says 'My granny says that dying is like going to sleep', to which Death sharply replies, I WOULDN'T KNOW. I HAVE DONE NEITHER.
The whole concept of the book is such a perfect comedy set-up. In many ways, Mort and Death are the fantasy fiction answer to the Odd Couple. Although, Death and anyone else would be the Odd Couple. But not only is the book painfully funny at times, it's also full of exciting set pieces. The finale scene where Mort and the villain battle it out in Death's Hall is a stand-out scene that I still think of sometimes, even all these years later. The hall is full of sand-timers on shelves, each timer representing a Discworldian's lifespan. As the battle rages, they knock over several timers; cut to views of the poor people dropping dead across the land. It's equally hilarious and terrifying – more exciting than several Hollywood blockbusters rolled into one.
Speaking of which, Disney is in the middle of adapting Mort, with the directors of Aladdin attached. Here's hoping it's good. Because they wouldn't want this vengeful 'anthropomorphic personification' on their trail…
I DON'T KNOW ABOUT YOU, he said, BUT I COULD MURDER A CURRY.
Death addresses his new apprentice