The World Street Performance Champtionships are taking place this weekend in Dublin (starting today). On Saturday and Sunday they're trying to break a world record to get the most Where's Wallys in one photo at one time.
To get in the mood, I thought I might share this fun Where's Wally (or Waldo for our American friends) game.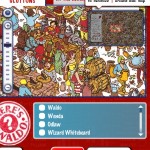 Another tip for all the Wally fans out there. You can now buy all the Wally books in one handy travel pack for under €15!