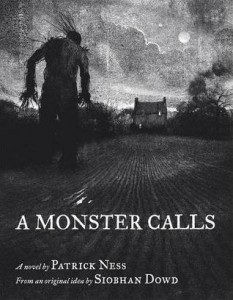 There's not much I can say about this beautiful book that hasn't been said in every other review out there. Written by Patrick Ness (Chaos Walking trilogy), illustrated by Jim Kay and from an idea by the late Siobhan Dowd, this really is a special story.
We meet young Conor on the night a monster calls to his house. The monster wants one thing from the boy; the truth. To go into any more detail of the plot would just ruin the experience.
I read the whole thing on a sunny Sunday afternoon but despite that, was swept away into this dark and atmospheric world – (assisted greatly by Kay's powerful illustrations). It's a relatively short story but deals with big issues; life, death, letting go and, above all else, honesty. Ness's lyrical prose takes you on a journey with Conor and his monster. In one ingenious storytelling technique, anytime the plot reaches a particularly frantic moment, the anarchic illustrations spill onto the text pages, hemming them in and making the reader feel that bit more claustrophobic. All that said, the book is infused with a humour that lightens the darker moments; the conversations between Conor and his monster frequently had me laughing before making me cry.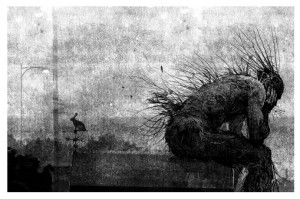 This is an excellent novella that's more than deserving of all the praise that's been heaped onto it. Read it and then re-read it.