Maurice Sendak (the curmudgeonly creator of, among other things, 'Where the Wild Things Are') was recently interviewed on The Colbert Report. (For anyone who hasn't heard of the show, it's essentially a parody of right-wing political broadcasting; Fox News etc.)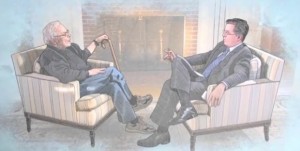 Anyway, the interview was spread across two episodes (season 9 episodes 13/14) and were a real treat. Sendak was a real match for the witty Colbert and was perftly able to give as good as he got. At one stage, Colbert quipped that  he believed that kids "are just biding their time until we're gone and then they get our stuff."
Sendak quickly replied, "It's an interesting point of view. Not interesting to me, particularly …"
Colbert went on to try to convince Sendak to write a sequel to Where the Wild Things Are (with Vin Diesel!) and even got him to sniff some markers!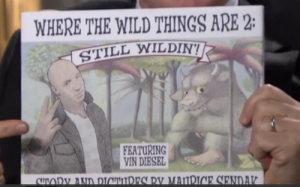 Unfortunately you can only watch the official clips if you're in the States but the full episodes are available to steam online (I couldn't possibly say where but try the usual streaming sites *cough* Watch-series *cough*)
However, there are some preview clips on Youtube that will give you a short glimpse at how fantastic the interview was. The second clip where Sendak tells us what he thinks of ebooks is a particularly foul-mouthed joy!