A while ago, I was asked to write a short piece for The Irish Times on one of my favourite childhood books. This is what I wrote…
Although written in the early seventies, Tales of a Fourth Grade Nothing by Judy Blume still
resonates today. We meet nine year old Peter Hatcher who tells us exactly how his toddler brother
Farley has ruined both his and his parents' lives. Farley, who prefers to be known as Fudge, is two
and a half when the book begins. He's hyperactive, rambunctious and always gets his way. If things
don't go how Fudge likes, he throws himself onto the floor, screaming, kicking and banging his fists.
As Peter recounts the many crimes of his brother, we also meet Jimmy – Peter's best friend – and
Sheila – their infuriating, know-it-all classmate who just happens to live in the same building as the
Hatcher's.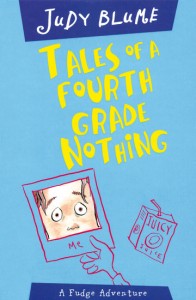 I have a younger brother called Paul. He's just two years my junior but that didn't stop me feeling
that he got away with everything when we were growing up. Everyone who has younger siblings will
know how maddening it can be when their brothers or sisters get off lightly simply because they're
the baby of the family. And Peter Hatcher feels the exact same way. No matter what Fudge does, it
seems as if his parents ignore the bad behaviour – or worse, blame Peter himself! In one episode,
Fudge leaps off the highest set of monkey bars, pretending to be a bird. When he smacks on the
hard ground, losing several teeth in the process, Peter's mother faults him for the incident since he
didn't take better care of his manic brother. But our hero has to deal with even more irritations in
his life; namely, the bossy Sheila Tubman, (who clearly has cooties!) Sheila, who sometimes babysits
Fudge, believes that she always knows best. While doing a school project with Peter and Jimmy, she
re-writes all their work, insisting that her own handwriting is obviously more legible.
Judy Blume went on to write four more books in the Fudge series (including a spin-off featuring
Sheila as the main character). The most recent addition was Double Fudge in 2002, so there may be
more Fudge adventures to come! While re-reading Peter's stories, I can't help but be reminded of
the Wimpy Kid series. Anyone who enjoys them would also get sucked in by 'Fudgemania'! They're
at once funny, infuriating, heart-warming and with an underlying message that manages to be
important without being cheesy. Fudge throws tantrums, he refuses to eat, he misbehaves, he and
his three friends – (including a biter!) – run riot at his third birthday party. But despite all this – and
following one hilariously tragic chapter towards the end of the book – Peter still loves his brother.
The book reminds all us older siblings out there that we really do care for our younger brothers and
sisters, regardless of their obvious flaws!