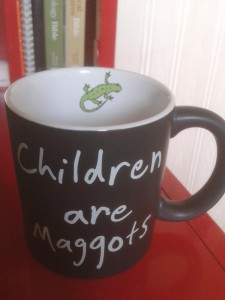 I'm often asked what my favourite book as a kid was and I'll always answer: 'Matilda' by Roald Dahl. I love the dark humour, the tenderness of Miss Honey and Matilda's friendship and I love how scary it is in the final 'blackboard' scene. So, also being partial to the odd musical, I was very excited by the prospect of Matilda: the Musical.
The show managed to exceed my already high expectations.

It's running in the West End of London now (and is opening on Broadway in 2013) and won a record breaking number of awards in the short year it's been there. If you've read the book or seen the film, you'll know the story already. But the writing team of Dennis Kelly and Tim Minchin (yes, the comedian musician Tim Minchin) took the fantastic novel and expanded on it in all the right places. I won't give too much away but they added a really ingenious subplot between Matilda and her favourite librarian.
When you go to a show where you know the story as well as you do Matilda, an audience is waiting for certain scenes. Personally, I couldn't wait to see the scene where the Trunchbull throws the girl across the schoolyard and the 'blackboard' scene at the end. And the show didn't disappoint here.
The young cast were brilliant but the star really is Miss Trunchbull. She steals the show every time she's on stage. It's actually a male actor playing the role and he makes the terrible headmistress at once hilarious and terrifying.
The set is a work of art and the choreography is sharp and spiky. But special mention has to go to Tim Minchin's songs. 'When I Grow Up' is destined to become a classic. And 'School Song' ingeniously interweaves the alphabet into the older kids' warnings about the Trunchbull. Listen to them below.
If I could say one negative thing about this production it's that it isn't in Dublin. I just want to see it again and again. Not only is it the best show I've ever seen (better than 'Wicked', which I loved!), but it's the best adaptation of Roald Dahl yet! I can't recommend it enough. Go see it next time you're in London.
Now, excuse me while I listen to my Matilda soundtrack and sip from my 'Children are Maggots' mug.