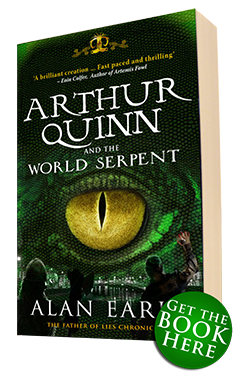 Something wicked has been awoken under the earth…
With his Dad starting work on the new Metro tunnel, Arthur is forced to move to Dublin. While exploring a hidden underground river, Arthur and his new friends Will and Ash find a mysterious pendent. It glows in the gloom of the river and depicts a monstrous snake strangling the trunk of a tree. They soon work out that the pendent is a warning, a sign that something evil is waiting underneath the city. Something that's been imprisoned for a thousand years, something left by the Vikings, something that can – and will – destroy first the city, then the world.
What did the Vikings hide under Dublin and why did they leave it there? Who is the dark man that spies on Arthur and what is his evil plan? This hair-raising fantasy adventure will have you thrilled to the end, as only Arthur and his friends can save the world from the dreaded World Serpent.
Shortlisted in the Bord Gais Energy Irish Book Awards for Best Children's Book, Senior 'Arthur Quinn and the World Serpent' has been described by Eoin Colfer, author of Artemis Fowl as 'a brilliant creation… fast-paced and thrilling' and by Image Magazine as 'an exciting fantasy novel. The book is the first of a trilogy and a thrilling read for anyone 8+!
'A clever blend of fantasy and the every day. It's like Harry Potter, Dublin style.'
– Irish Examiner
'Excitement is full blast from beginning to end.'
– VOYA, Voices of Youth Advocates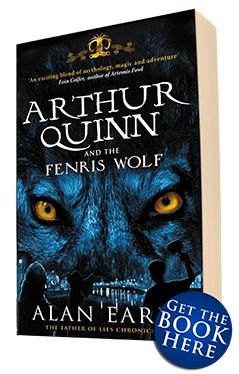 Life is finally back to normal for Arthur Quinn…
Three months ago, he and his friends almost died stopping the Trickster God Loki from destroying the world. But just when Arthur is starting to relax again, the dreams start once more; dreams of gods, dreams of war, dreams of wolves. It can mean only one thing. Loki is back.
Who is the Fenris Wolf of Arthur's visions? Can he trust his two odd new classmates? And what's in the National Museum that Loki is so desperate to get at? Mysteries and questions arise as, once again, it's down to Arthur Quinn, his friends and a dead Viking to save the world.
But what they don't know is that this time, Loki has help…
Following on from the enormous success of 'Arthur Quinn and the World Serpent', Arthur and his friends are back in a new exciting adventure!
'Its like a ride on the back of the Fenris Wolf itself, breathlessly exciting… perfect for everyone who enjoyed Avengers Assemble.'
– Alexander Gordon Smith, Inis Magazine
'A gripping supernatural story for 10-plus readers with an ingenious plot'
– Lorraine Courtney. Sunday Independent Living
Arthur Quinn has defeated the World Serpent. He's come face-to-face with the Fenris Wolf. But now he faces Loki's most powerful child, Hell's Keeper. 
With his friends Ash, Ellie and Ex, Arthur sets out to stop this new menace. But Loki has a trick up his sleeve, a trick that changes everything. Arthur must confront Loki for a final showdown.
But faced with a terrible secret and enemies at every turn, can Arthur find the courage he needs to defeat the god once and for all, or has Loki finally won?
'An incredible conclusion to one of the best fantasy series you'll ever read.'
– Mary Esther Judy, The Bookbag

'Expertly paced and totally engrossing'
– Chosen as one of Robert Dunbar's best childrens books of the last 25 years