A while ago, I was asked to write a short piece for The Irish Times on one of my favourite childhood books. This is what I wrote…
Although written in the early seventies, Tales of a Fourth Grade Nothing by Judy Blume still
resonates today. We meet nine year old Peter Hatcher who tells us exactly how his toddler brother
Farley has ruined both his and his parents' lives. Farley, who prefers to be known as Fudge, is two
and a half when the book begins. He's hyperactive, rambunctious and always gets his way. If things
don't go how Fudge likes, he throws himself onto the floor, screaming, kicking and banging his fists.
As Peter recounts the many crimes of his brother, we also meet Jimmy – Peter's best friend – and
Sheila – their infuriating, know-it-all classmate who just happens to live in the same building as the
Hatcher's.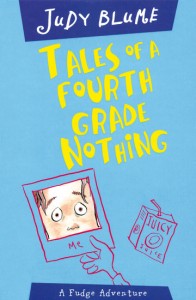 Read the rest of this entry »