A new mysterious website has appeared with the tantalizing name of 'Pottermore'. It's sparked off rumours that JK Rowling is working on some more Harry Potter books…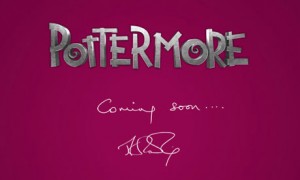 From the Guardian website:
Harry Potter fans have been sent into a frenzy of excitement after the creator of their favourite wizard, JK Rowling, launched a mysterious new website.
The website, Pottermore.com, currently only shows the word "Pottermore" on a pink background, with the promise of more "coming soon" and Rowling's famous signature emblazoned below. A Twitter account, @Pottermore, has also been set up, and already has almost 25,000 followers. Fans were guided to the site yesterday by a "Secret Street View" challenge, which saw ten Potter fansites given coordinates, each of which led to a single letter. Put together, the letters spelled out Pottermore.
No other details about the new project have yet been revealed, but an editor at the fansite HPANA said they had seen a "sneak preview" of Pottermore "and it is breathtaking in scope, detail and sheer beauty".
Fans immediately expressed hope that the project would be the long-promised Potter encyclopedia, with other suggestions ranging from a "giant theme park" to a Massively Multiplayer Online Role-Playing Game (Pottermore standing for Potter Multiplayer Online Role-playing Experience) and a fansite. "Wow! This is probably the most exciting thing ever! I am shaking hardcore because I am so excited!" wrote one reader on the fansite Mugglenet.
Some readers were praying that the news might be a new Potter book, although Rowling has previously said it is "highly unlikely" that she would write more Harry Potter novels. "I've got enough story for seven books and I never planned to carry the story beyond the end of book seven. I might do an eighth book for charity, a kind of encyclopedia of the world so that I could use all the extra material that's not in the books … we'll see!" she has written on her website.
However, she did tell Oprah Winfrey in an interview last year that she could "definitely write an eighth, ninth [and] 10th book", adding "I think I am done but you never know".
Rowling's PR company Stonehill Salt said this morning that the new project was not a new book. "All we can say is that Pottermore is the name of JK Rowling's new project. It will be announced soon, and it is not a new book," said a spokesperson.
UPDATE: A magical youtube page with a countdown has just added to the mystery.