As I mentioned briefly in this earlier blog, my book has been chosen to be the featured book in the inaugural 'Children Save Dublin' reading project. The initiative has been established by UNESCO Dublin City of Literature – (the people behind the hugely successful 'One City, One Book' project) – and will run from today right up to the end of March. There are lots of events planned for the duration of the festival. I'll be giving workshops in libraries, schools and bookshops and Michael Moylan of Irish History Live will be bringing his Viking History show to various locations around the city. The project culminates with a huge event as part of the St Patricks Festival. We're going to have a train parked in Connolly Station, designed to look like the World Serpent itself. Each carriage will host a different fun event – (I'll be there giving workshops and more!)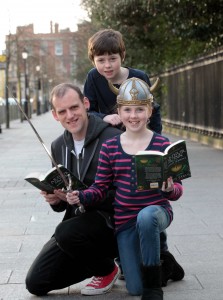 Not only that, we have a huge online element to the festival. As some of you may know, the Arthur Quinn website is quite extensive already, with games, videos, downloads and information about the book. But I want to make it even bigger. Children can send in questions for me, their opinion on the book, stories inspired by the characters – whatever! We even have a brand new gallery that we want to fill up great art based on the book. And finally, we're running a competition to win one of three family trips on the Viking Splash Tour.
It's a huge compliment to be picked for the festival and I really couldn't be happier. Many children love reading. I always loved reading growing up. But I know and you know that there are a lot of children who just haven't found that love of reading yet. I firmly believe that the greatest gift you can give a child is a gift of reading so it's great to be part of this project and helping achieve that goal in any way I can!
Today, we had a launch of the festival and you can see a few pictures and brief report here. You can also watch the video below for more information on the project. For more information on the project see the Dublin City of Literature site or the Arthur Quinn site. You can check here for any press coverage on the project. And remember to follow me on Twitter, on Facebook or check back here for regular updates on more events and additions to the line-up!